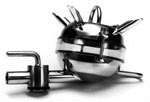 Now available direct at a superior price!
Claw with straight tube $325.00
Claw with spigot $375.00


Balanced Flow


The Mark IV's large capacity and balanced flow design provides a stable milking vacuum, minimizing back flow and promoting udder health. Milk flows smoothly, reducing pooling and foaming inside the claw. Faster milking is possible because of body shape and balance, milking front and rear quarters evenly.

Drains Completely
The cone shaped stainless steel bottom drains faster and completely. This smooth high polished design insures the claw cleans completely with automatic washing systems.

Durable
The Mark IV's all stainless steel top and bottom and crystal clear heavy wall window provide long life and eliminate down time and expense from breakage. Unlike other brands, the Condé Mark IV is built for years of hard use. Condé stainless steel milk claws are unsurpassed for durability and service life.

Fits the Udder
The Satellite Mark IV Milk Claw's classic wide reach, even weight distribution and minimum depth hangs better even on cows with large low udders. This unique design accomodates any udder size.

Although Condé Mark IV Claws can be used with any brand of inflation and shell, the Mark IV performs best with genuine Condé Inflations and Shells. Find out how we can ship inflations direct to you on a schedule that insures inflations are changed at the proper time to insure herd health. Call for special direct ship pricing.

Condé Inflations

Condé NBC Inflation - Our standard narrow bore inflation. Milks beautifully and holds up extremely well over time.

Condé NBSC Inflation - Similar in size to NBC, but utilizing a softer rubber compound for the ulitmate in milking comfort and udder health.

Condé 8SNW - A medium bore inflation, ideal for milking cows with larger teats.

Condé 8SNWL - Medium bore inflation, similar to the 8SNW, but with a wider mouth piece.
Condé Rotary Valve
The Condé Rotary Valve is an incredibly dependable master pulsator that replaces all other pulsation devises. The Rotary Valve works on a simple mechanical principal that allows it to maintain the same accurate pulsation rate day in and day out. The Rotary Valve is impervious to power spikes or other power problems that can cause erratic pulsation. Each milking station in the barn or parlor milks alike and maintenance is almost non-existent.
Rotary Valves are available in either 60/40 or 50/50 pulsation/rest ratios. Rotary Valves can be installed for single or alternating action. The Condé Double Rotary Valve can supply pulsation to up to six units milking alternating action or 12 units milking single action. Improved design milks faster and better!
So, if you are getting frustrated over pulsation problems and are sick of constant parts replacement and cost, check out the Condé Rotary Valve.
Condé SAC Pulsator
Alternating action pneumatic pulsator. Pulsator is set for 60/40 milk/rest ratio at 60 pulsations per minute. An excellent quality pulsator at an attractive price. Wearing parts are replaceable. Pulsations per minute are adjustable from 55 to 120.
Part No.

1RV02
1RV01
1PULS01

Description

Condé Double Rotary Valve
Condé Single Rotary Valve
Condé SAC Pneumatic Pulsator

Price

$1450.00
$1045.00
$295.00
ALSO CHECK OUT THE VACUUM SUPPLIER SECTION FOR VACUUM SUPPLIERS THAT ARE IDEAL FOR SMALLER (AND LARGER) GOAT PIPELINE AND PARLOR SYSTEMS.